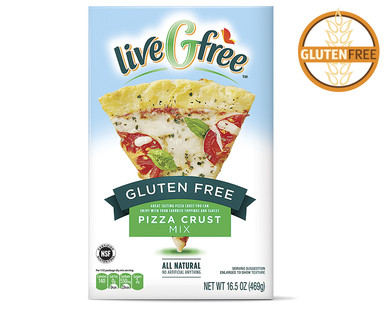 Did you know that Aldi's had released a line of Gluten Free products? I did not until recently. I have tried 2 items from the line with my own cooking and one I was lucky enough to try at last Saturday's
GFAF Wellness Event
!! This post is about one of the one's I cooked on my own and my entire family loved! Here is a link to the entire product line~
Aldi LiveGfree
I was not sure what I would think about this since I had previously tried two different pizza mixes (gf) with various success. However, I love pizza so I was ready to give the good ol college try and boy was I beyond glad I did.
The instructions were very easy to follow. I did get nervous at first because my dough did not stick together the way I thought the instructions meant for it to, but once cooked it was perfect! All I had to add was some oil (I used coconut), egg, water and use a fork to pierce dough before cooking. Very nice ingredient list for me (the lady never with a full pantry!)
I enjoyed making this pizza and the ability to put on my own toppings. I like very simplistic pizza's and/or with veggies but rarely meat. My mom likes a combination and my dad likes it the more meat the better. This mix was enough for 2 pizzas that were small/medium size,so I made them both and then did the toppings to appease all three of us. I also made homemade pizza sauce rather than something from a jar (apparently I was feeling ambitious.) The picture to the left is what the dough looked like after I rolled it out. The picture on the right is what it looked like after being in the oven for 10 minutes and prior to being loaded with all the pizza goodies.
So this was my "picky" pizza as my family calls it! Yes it was gluten free, but not dairy free, so I still was having some side effects. However, my quest for a dairy free cheese that I enjoy is still going strong! I made this with my homemade pizza/marinara sauce, mushrooms, basil, parsley, onion powder, garlic, crushed red pepper flakes, shredded mild cheddar and 6 Italian cheese blend. Do you have a specific dairy free brand to recommend? Let me know because while I chose to add all the cheese, I was not the happiest a while after dinner:/ For those that are new or wondering why eat dairy, I know I know I know. I am working on it. In fact, we ate pizza last week and since then I have not had cheese (which for me is HUGE), but I love cheese so any suggestions please send them my way! This dairy sensitive lass will love you forever:)
This pizza is what my parents enjoyed for dinner! It was made the same way and with the same sauce, but the toppings were a wee bit different. For their pizza I added more cheese (does that not just look the epitome of gooey), sausage and beef. I also rolled theirs out a bit more to get a "larger" and crisper crust. Now, not to brag, but I must share for this review that my dad loved this pizza! Normally my dad will take a bite or two of my gluten free items and say not bad, but not finish it. Not this time buddy, no, he ate his serving and went back for seconds!! I felt like doing a victory dance!
I must say that I am a fan of this brand, especially this pizza mix! It was extremely easy and convenient, quick turnover for the dough to rest/rise and tasted delicious! It was not too dense or too mushy. It had a flavor and it held up to various toppings being piled on top. While it would be nice if the mix did not have dairy in it, for those that are not worried about dairy sensitivities or those who are still looking for good options without dairy this mix is a must try! Even as I continue on my quest for a non-dairy mix I told my parents to keep getting it so I can make them this version rather than ordering in a chain brand pizza full of all the ingredients!