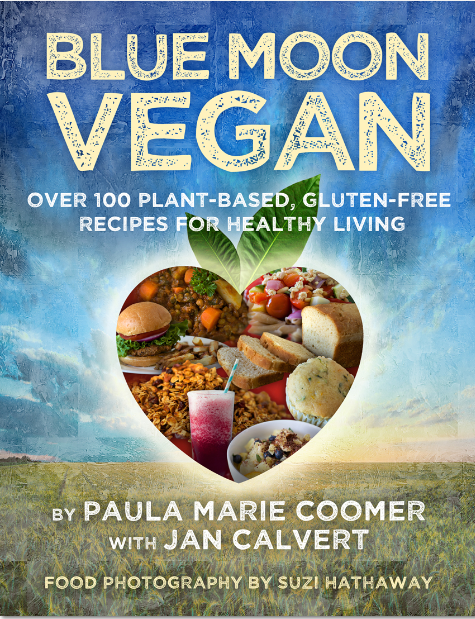 General InformationGenre: Health/Cookbook
Published: February 14, 2015
Publisher: Booktrope
Book Summary (Per Goodreads):
In Blue Moon Vegan, Paula Marie Coomer partners with baker Jan Calvert to raise the culinary bar with over one hundred original recipes, all of which are based on plant-derived ingredients and are also gluten-free. Ranging from luscious side dishes such as "Butter-Dill Salad" and staples like "Paula's Lasagna al Forno" to scrumptious breads, snacks, pastries, and innovative main courses such as "Squash Blossoms in Cashew Cream," these easy-to-follow recipes will inspire both new and experienced vegans as well as omnivores looking to add a few meatless meals to the menu. The book also includes dozens of pages of nutrition and cooking information, based on Coomer's background in nursing, Calvert's experience running her own gluten-free bakery, and their mutual struggle with gluten intolerance.

Beautifully photographed and formatted for easy use, Blue Moon Vegan is destined to become a well-used favorite for cooks of all persuasions and represents another step along the path to healthy eating which began with Coomer's food memoir, Blue Moon Vegetarian.
My Thoughts:
I am not a vegan, but I do love this book. I thought the layout, the pictures, the approach and rationale behind why vegan was very smartly displayed. I enjoyed that it was not a lecture about health or ethics, but rather her stance and then the information was also provided for your own research in the back. The dishes for the main part looked very good and I have marked quite a few down to incorporate into my meal planning as I am gluten and dairy intolerant. I thought the discussion about the need or use of organic items was probably one of the most straight forward, well thought out and articulated I have encountered. This was the first book to approach cost effective ways to achieve this such as co-ops, bulk markets, etc.
I really appreciated her addressing the whole must keep gluten out entirely to feel the positive effects. It is true when I go days without slip ups, cheats, etc. I can tell a huge difference in my inflammation levels, my attention, etc..not even to mention how my stomach feels. The array of recipes peaked my interest because there were many that I could see trying, that looked realistic and not too intense in regard to cooking skills. I was slightly concerned by the amount of ingredients some of them required, but I appreciated the diverse amount of dishes and types of dishes this book presented to the readers.
I found this book informative (really it is like a step by step how to rather than a dry cookbook), feel that I will utilize it for recipes to try out and has me interested in looking into more vegan dishes to help with finding healthy foods that fit my nutritional boundaries!
Important Links:
Links to Purchase Book:
Disclaimer: I received this book in exchange for an honest review. All thoughts and opinions are my own.