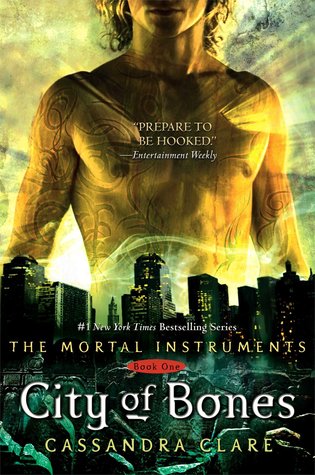 Genre: Fantasy, YA, Fiction,
Publisher:Margaret K. McElderry Books
Published:

March 27th 2007
Book Summary (per Goodreads)
When fifteen-year-old Clary Fray heads out to the Pandemonium Club in New York City, she hardly expects to witness a murder― much less a murder committed by three teenagers covered with strange tattoos and brandishing bizarre weapons. Then the body disappears into thin air. It's hard to call the police when the murderers are invisible to everyone else and when there is nothing―not even a smear of blood―to show that a boy has died. Or was he a boy?

This is Clary's first meeting with the Shadowhunters, warriors dedicated to ridding the earth of demons. It's also her first encounter with Jace, a Shadowhunter who looks a little like an angel and acts a lot like a jerk. Within twenty-four hours Clary is pulled into Jace's world with a vengeance, when her mother disappears and Clary herself is attacked by a demon. But why would demons be interested in ordinary mundanes like Clary and her mother? And how did Clary suddenly get the Sight? The Shadowhunters would like to know...

Exotic and gritty, exhilarating and utterly gripping, Cassandra Clare's ferociously entertaining fantasy takes readers on a wild ride that they will never want to end.
My Thoughts
So I am super late in getting started on this series, but my goodness it is fantastic. I requested it from the library and was put on a wait list. I finally got it and read it in one sitting..so stinking good! I loved the writing style, the way I could visualize the different demons, locations, emotions and more. I felt like I could see the tension between the characters, the ups and downs of the different events, the horror of some of the demons and more!
The twists and turns in this story were perfectly timed and placed. The way Cassandra Clare places details and takes us on the adventure is masterful. The story kept my attention and guessing from cover to cover. I 100% appreciated how I was kept guessing from one minute to the next about what was truth, what had happened, what was going on, where these events took place and more. As soon as I finished this book I started in on the next book in the series and I can safely say I am hooked. I also already have some favorite characters so I hope that doesn't change as I keep reading! I am loving on Luke, Jace, Magnus and Clary. Who are your favorites? Did they change as you read the series? If you enjoy books that are action packed with relateable characters and a fully developed plot you should try this book out!
Important Links:
Links to Purchase
Disclaimer: I borrowed this book from the library. All thoughts and opinions are my own.
Until my next post..love y'all!