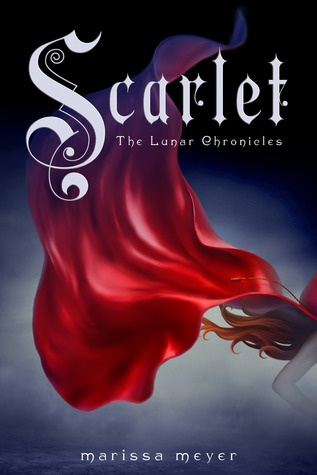 Publisher:

Feiwel and Friends
Published:

February 5th 2013
Book Summary (Per Goodreads)
Cinder, the cyborg mechanic, returns in the second thrilling installment of the bestselling Lunar Chronicles. She's trying to break out of prison--even though if she succeeds, she'll be the Commonwealth's most wanted fugitive.
Halfway around the world, Scarlet Benoit's grandmother is missing. It turns out there are many things Scarlet doesn't know about her grandmother or the grave danger she has lived in her whole life. When Scarlet encounters Wolf, a street fighter who may have information as to her grandmother's whereabouts, she is loath to trust this stranger, but is inexplicably drawn to him, and he to her. As Scarlet and Wolf unravel one mystery, they encounter another when they meet Cinder. Now, all of them must stay one step ahead of the vicious Lunar Queen Levana, who will do anything for the handsome Prince Kai to become her husband, her king, her prisoner
My Thoughts
This book was equally as great as the first one in the series. I thought the way that MM combined the two story lines was genius and extremely creative. I love seeing how she takes timeless fairy-tales that we grow up with and tweak them into an entirely fresh and new world with different spins and angles. I thought her ability to keep to the depth of character and story-lines for the individuals while keeping an overarching story that everyone has a role in was masterful. I could not even believe the scene with Cinder's guardian
I would love to see this as a movie or tv show. The writing style is very detailed and I enjoy the images that I create as I read the stories. I am not sure if I have a favorite between Cinder and Scarlet, but I think I am aiming more towards Wolf over Kai right now! I also was thrilled to see certain characters return and the introduction of more individuals that were fantastic to see interact with Cinder and Scarlet. Lastly, t
he cover to this book is gorgeous. I actually think after reading the first two in the series I want to go back and buy the books for my bookshelves!
Do you have a favorite character or story? I am moving onto book three soon so please no spoilers!
Important Links
Author
Goodreads
Links to Purchase
Amazon
Barnes & Noble
Disclaimer~ I borrowed this book from the library. All thoughts and opinions are my own.
Until my next post...love y'all!