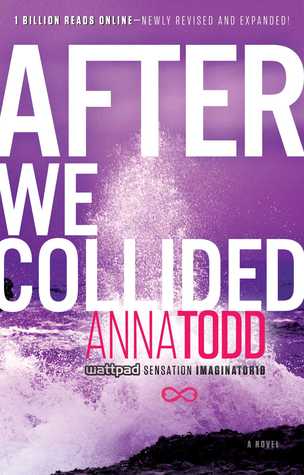 Genre~ Romance, New Adult
Publisher~ November 25, 2014
Book Summary (Per Goodreads)
Tessa has everything to lose. Hardin has nothing to lose…except her.
AFTER WE COLLIDED
…Life will never be the same.
After a tumultuous beginning to their relationship, Tessa and Hardin were on the path to making things work. Tessa knew Hardin could be cruel, but when a bombshell revelation is dropped about the origins of their relationship—and Hardin's mysterious past—Tessa is beside herself.
Hardin will always be…Hardin. But is he really the deep, thoughtful guy Tessa fell madly in love with despite his angry exterior—or has he been a stranger all along? She wishes she could walk away. It's just not that easy. Not with the memory of passionate nights spent in his arms. His electric touch. His hungry kisses.
Still, Tessa's not sure she can endure one more broken promise. She put so much on hold for Hardin—school, friends, her mom, a relationship with a guy who really loved her, and now possibly even a promising new career. She needs to move forward with her life.
Hardin knows he made a mistake, possibly the biggest one of his life. He's not going down without a fight. But can he change?
Will
he change…for love?
My Thoughts
How does she even move on..how is there even a book two? I mean I still have no words from the way After ended. After We Collided picks up right after the gutting scene in the bar. On one hand I am full of awe for Tessa talking to any of them for information and just talking, on the other hand I am appalled that she sticks around after what the entire group knew and took part in against her. Brings up the question what all will we forgive, work through, etc. if we are in love?
The way AT writes this story keeps me captivated and ensnared even though I know it will be more of the same promises, fights, break up, make up, etc. I love the way we hear the internal dialogue and get to know all the side characters. I adore Landon. He is the friend that everyone needs in their life. I don't get and I am annoyed by the entire Zed component. I mean he knew and was just as active in the bet, the only difference is that he didn't win so I am not sure why he is getting the white knight role of the book...also there is something else that makes me think he is not as nice as Tessa thinks.
This is a long story, but I didn't want to put it down because I want to know what happens between Tessa and Hardin, how and when do they go separate ways or will they find a way to make it work, how can so many people be this much of a villain? It no longer is just Molly, but a whole slew of them that I am just OMG over all the actions. The ending has me tense because we know Tessa has made a decisions, Hardin doesn't know about it and then hello cliffhanger of a major emotional tidal-wave.
You guessed it..I immediately had to go start book three. I know it is likely to be more of the emotional upheaval and cruelty with some beautiful moments, but I need to see what happens!
Important Links
*You can see my review to After here*
Author
Goodreads
Facebook
Twitter
Instagram
Links to Purchase Book
Amazon
Barnes & Noble
Until my next post...love ya'll!!