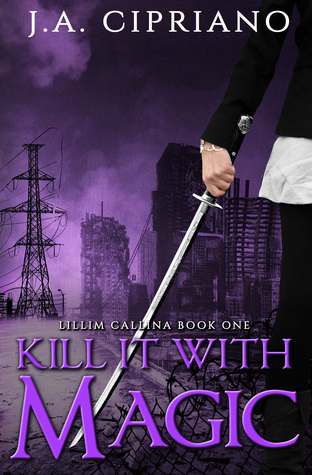 Genre~ Paranormal, YA, Fantasy
Published~ September 22, 2014
Book Summary (Per Goodreads)
Sixteen-year-old Lillim Callina is good at two things: running away and magic.
Now, Lillim's half-demon ex-boyfriend is contacting her for help, she has somehow gotten herself mixed up in a kidnapping, and her long-dead rival has risen from the grave.
So when a dragon plotting to take over the world offers her a choice: Work for him or else.
Lillim Callina is going to choose else.
Vampires, Dragons, Werewolves, Human guards and more in this action packed adventure that pits the species and groups against each other in a new manner. There are different worlds, ways to travel, gross castles, babies to safe, magical abilities, previous lives to avoid and ex's to run from in Lilliam's world.
JAC creates a world where action is the norm and remembering your previous lives is part of the everyday. The writing style is very vivid and well developed. There were quite a few characters introduced, but they all had a distinct personality that I either loved, loathed or was admittedly confused by. haha. When we first were introduced to Lilliam's mentor, I thought wow he must love her, then as the story progressed...jerk, but then by the ending I was conflicted about whether I thought he was a good or bad guy. Now I am left wondering how does a human guard have that much power? Apparently things are not so simple in this quest to keep things in line between the worlds.
Her ghost attachment, and what we learn about him, has me intrigued for more of their adventures. I wonder how she will address what she learned from Rhapsody (fantastic name) in the nether. I thought the vampire Bob was hilarious and hope to see more of him in the future Lilliam books. I didn't like Joshua or Caleb as a romantic interest that much..I know I am horrible, but I did enjoy their characters and want to learn more about this poison inside of Caleb. However, the character I want to see/learn about the most is Trius and him being a dragon.
Last note~ the cover of this book and the weapons used in this story..simply fantastic. I can't wait to learn more about the weapons, how they are used, made, why some are feared, etc.!
Disclaimer~ I received this book in exchange for an honest opinion. All thoughts and opinions are my own!
Until my next post...love y'all!!