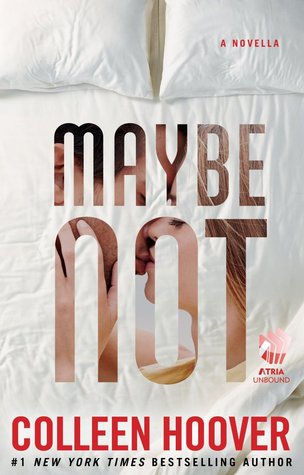 General Information
Genre~ New Adult, Contemporary Romance
Published~
November 24th 2014
Book Summary (Per Goodreads)
Colleen Hoover, the
New York Times
bestselling author of
Maybe Someday
brilliantly brings to life the story of the wonderfully hilarious and charismatic Warren in a new novella,
Maybe Not
.
When Warren has the opportunity to live with a female roommate, he instantly agrees. It could be an exciting change.
Or maybe not.
Especially when that roommate is the cold and seemingly calculating Bridgette. Tensions run high and tempers flare as the two can hardly stand to be in the same room together. But Warren has a theory about Bridgette: anyone who can hate with that much passion should also have the capability to love with that much passion. And he wants to be the one to test this theory.
Will Bridgette find it in herself to warm her heart to Warren and finally learn to love?
Maybe.
Maybe not.
My Thoughts
First time I have read a Colleen Hoover book and I am hooked! So well written and so much more than just a romance. I found the couple in this story hilarious and am torn about who I enjoyed the most! I do believe it is Bridgette though for a variety of small reasons. I could not stop laughing, smiling, feeling sad at times, etc. over her story and antics. The interactions between Warren and Bridgette (especially after he starts to understand when she is hurt, unsure, etc. and how she plays back at him) are fantastic! My heart dropped during one of her pranks..literally hurt my chest..but oh so brilliantly done by the end of the prank. Absolutely brilliant. My favorite and sweetest scene in this story is Bridgette with Warren's nephew. I mean pheww adorable, sweet, heart expanding doesn't even cover how precious and fantastic I thought it was when he said her name, her reaction and then his cussing in front of his mom. I loved it!
This was a fast paced novella that I found engaging the entire time. I am intrigued to read Maybe Someday and learn more about this group of roommates/friends/family. I thought the characters were all extremely well developed, I loved the way that CH covered some heavy topics and how certain characters handled them, and how there was romance but also more to the story! I am so glad I finally read a CH book and I can't wait to read more!
Important Links
Author
Goodreads
Twitter
Links to Purchase Book
Amazon
Barnes & Noble
Until my next post...love y'all!!