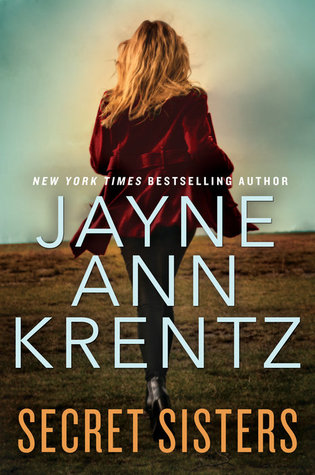 Published~ December 8, 2015
Book Summary (Per Goodreads)
No one does romantic suspense better than Jayne Ann Krentz. Now, the New York Times bestselling author of Trust No One andRiver Road delivers a novel that twists and turns into a read that will leave you breathless.

Madeline and Daphne were once as close as sisters—until a secret tore them apart. Now it might take them to their graves.

They knew his name, the man who tried to brutally attack twelve-year-old Madeline in her grandmother's hotel. They thought they knew his fate. He wouldn't be bothering them anymore...ever. Still their lives would never be the same.

Madeline has returned to Washington after her grandmother's mysterious death. And at the old, abandoned hotel—a place she never wanted to see again—a dying man's last words convey a warning: the secrets she and Daphne believed buried forever have been discovered.

Now, after almost two decades, Madeline and Daphne will be reunited in friendship and in fear. Unable to trust the local police, Madeline summons Jack Rayner, the hotel chain's new security expert. Despite the secrets and mysteries that surround him, Jack is the only one she trusts...and wants.

Jack is no good at relationships but he does possess a specific skill set that includes a profoundly intimate understanding of warped and dangerous minds. With the assistance of Jack's brother, Abe, a high-tech magician, the four of them will form an uneasy alliance against a killer who will stop at nothing to hide the truth....
My Thoughts
I can't read enough from JAK. The characters in her stories always seem to just jump off the pages and into real life. This story is no different. Madeline and Daphne experienced a horribly traumatic event that in different ways shaped how they live their lives. The vivid imagery of their looks, actions, behavior are so precise that I felt like I could see them in my mind perfectly. The same occurred for Jack, Abe and all the of the other characters (villains and just quirky like the towns people). I love when I read a book and I can visualize it like a movie in my head at the same time.
The romance(s) played out perfectly and I enjoyed the focus on trust rather than just the physical. However, the main focus (and what I enjoyed the most), was the suspense of who and what was creating all these situations. The details and the way that they are interspersed into the story is simply brilliant..literally until the last scene I kept getting surprised by dialogue or character twists. Not trying to show spoilers..but that family..wow they are all kinds of special and crazy and wow...perfect dna of no. I found this an intriguing and captivating story from start to end and can't wait to read more from JAK.
Important Links
Links to Purchase Book
Until my next post...love y'all!!