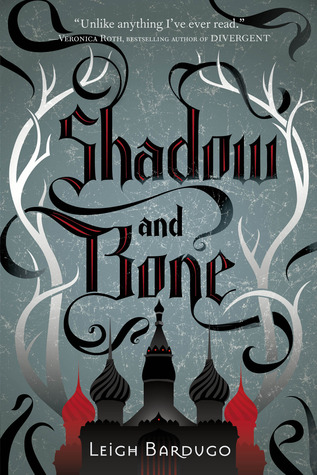 Publisher~

Henry Holt and Co. (BYR)
Book Summary (Per Goodreads)
Surrounded by enemies, the once-great nation of Ravka has been torn in two by the Shadow Fold, a swath of near impenetrable darkness crawling with monsters who feast on human flesh. Now its fate may rest on the shoulders of one lonely refugee.
Alina Starkov has never been good at anything. But when her regiment is attacked on the Fold and her best friend is brutally injured, Alina reveals a dormant power that saves his life—a power that could be the key to setting her war-ravaged country free. Wrenched from everything she knows, Alina is whisked away to the royal court to be trained as a member of the Grisha, the magical elite led by the mysterious Darkling.
Yet nothing in this lavish world is what it seems. With darkness looming and an entire kingdom depending on her untamed power, Alina will have to confront the secrets of the Grisha . . . and the secrets of her heart.
Shadow and Bone is the first installment in Leigh Bardugo's Grisha Trilogy.
My Thoughts
Captivating and one of the most descriptive stories I have read in a while. The use of color, emotions and language is phenomenal in this story. I had heard a lot about this author and series, but had not yet read any of it...I was missing out. I am now fascinated with Alina, Ravka, The Darkling (what a cool name), the Grisha in general and essentially all things created in LB's work.
Talk about a roller-coaster...I was sad for Alina, happy for Alina, thrilled for Alina, sad for her and mad for her, happy for her and then in shock for her...Can all that happen in one book and there is still more to come?!?!? The way the world, clothing, powers, the characters, the Shadow Fold are described created a wonderful world that I could visualize. I can't imagine a world like that and yet LB delivered one in this first book of the Grisha Trilogy.
The ending left me cheering for Alina, curious about her best friend..and if he does actually have a special talent, worried about the Darkling and concerned for the older woman back where Alina was trained. While late to starting this series, I am so glad I did and I can't wait to learn more about this adventure and path that everyone is on in Ravka!
The lovely book trailer was on LB's author site.

As a side note, definitely check out her site. It is interactive and a lot of fun for fans of her writing and the Grisha world.
Author
Goodreads
Twitter
Instagram
Facebook
Links to Purchase
Amazon
Barnes & Noble
Until my next post...love y'all!!