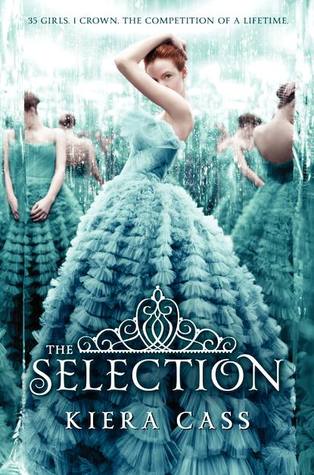 General Information
Genre~ YA, Sci-Fi, Romance
Publisher~ HarperTeen
Published~ April 24, 2012
Book Summary (Per Goodreads)
For thirty-five girls, the Selection is the chance of a lifetime. The opportunity to escape the life laid out for them since birth. To be swept up in a world of glittering gowns and priceless jewels. To live in a palace and compete for the heart of gorgeous Prince Maxon.
But for America Singer, being Selected is a nightmare. It means turning her back on her secret love with Aspen, who is a caste below her. Leaving her home to enter a fierce competition for a crown she doesn't want. Living in a palace that is constantly threatened by violent rebel attacks.
Then America meets Prince Maxon. Gradually, she starts to question all the plans she's made for herself—and realizes that the life she's always dreamed of may not compare to a future she never imagined.
My Thoughts
I loved it and I can't wait to read the next one, but I also am dreading it because I don't like love triangles! The writing style of this book is great. I quickly felt like I understood and could visualize this world that KC created. Certain areas with opulence and others that were literally living in dirt poor conditions. The emotions were easy to relate to and follow. I might be alone in this, but I wondered upon finishing the story if the Prince 1)liked her from the get go, 2)like her because she always told him the truth (until a certain situation or 3)all of the above since she is also by all accounts very pretty.
I am intrigued to learn more about the Northern and Southern groups and why the King does not like to talk about them to the Prince. I felt like I was watching the Bachelor at times though when the Prince shared his decision making to the America..I mean why draw it out? America, I loved her and her reactions. I read some reviews that people didn't like the back and forth in her mind, but I feel that is realistic. If someone has loved someone for so long that does not go away overnight (Generally).
I am not sure about a movie for this book, but it would be great to have more illustrations to show the dresses, the communities and more because the descriptions in the book made them so lush and real in my mind. I am not sure about a movie because so often a movie takes my favorite books into some very weird directions and/or does not create the visual effect that I imagined. I am not sure where I fall on the whole who should she be with and I am not sure where I think the unrest will go from the rebel type groups..but I am sure that I am excited to read the next and learn more about this world and journey that America is on!
Important Links
Author
Goodreads
Twitter
Instagram
Links to Purchase
Amazon
Barnes & Noble
Until my next post...love y'all!!