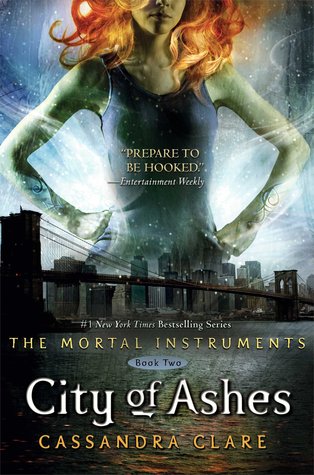 Genre: YA, Fantasy, Fiction
Publisher:

Margaret K. McElderry Books
Published: March 25, 2008
Book Summary (Per Goodreads)
Clary Fray just wishes that her life would go back to normal. But what's normal when you're a demon-slaying Shadowhunter, your mother is in a magically induced coma, and you can suddenly see Downworlders like werewolves, vampires, and faeries? If Clary left the world of the Shadowhunters behind, it would mean more time with her best friend, Simon, who's becoming more than a friend. But the Shadowhunting world isn't ready to let her go — especially her handsome, infuriating, newfound brother, Jace. And Clary's only chance to help her mother is to track down rogue Shadowhunter Valentine, who is probably insane, certainly evil — and also her father.
To complicate matters, someone in New York City is murdering Downworlder children. Is Valentine behind the killings — and if he is, what is he trying to do? When the second of the Mortal Instruments, the Soul-Sword, is stolen, the terrifying Inquisitor arrives to investigate and zooms right in on Jace. How can Clary stop Valentine if Jace is willing to betray everything he believes in to help their father?
In this breathtaking sequel to
City of Bones
, Cassandra Clare lures her readers back into the dark grip of New York City's Downworld, where love is never safe and power becomes the deadliest temptation.
My Thoughts
I enjoyed the first book a great deal, but I loved this book! The writing and pace were even more enjoyable and the more I learned about the characters the more I found my favorites/got invested in their story. I adore Magnus and Jace. I still love Luke and enjoy seeing Clary grow. I unfortunately am liking Simon less and less:(
I loved how the details were laid out for us readers. I want to know is Jace his son or not? What was the Inquisitor trying to say? Why didn't Clary's moms friend come by sooner? How are Jace and Clary truly different?!?!? So many questions and I love finding out the answer to each question and then having more! I have not enjoyed reading a series so much in a while. I can't wait to start book 3 and see where we go next.
I am still holding out that Jace is not her brother and they can figure that out! Don't give me any spoilers, but who is your favorite character? I hope to continue to see Magnus, Jace, Luke and Clary grow and stay a wee big snarky/sarcastic in this series.
Important Links
Author
Twitter
Goodreads
Facebook
Blog
Links to Purchase
Amazon
Barnes & Noble
Disclaimer: I borrowed this book from the library. All thoughts and opinions are my own.
Until my next post..love y'all!!