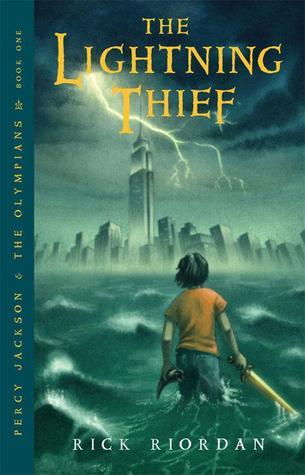 General Information
Genre: Fantasy, YA, Adventure
Publisher: Disney Hyperion Books
Published: March 1st, 2006 (first published January 1st, 2005)
Book Summary (Per Goodreads)
Percy Jackson is a good kid, but he can't seem to focus on his schoolwork or control his temper. And lately, being away at boarding school is only getting worse—Percy could have sworn his pre-algebra teacher turned into a monster and tried to kill him. When Percy's mom finds out, she knows it's time that he knew the truth about where he came from, and that he go to the one place he'll be safe. She sends Percy to Camp Half Blood, a summer camp for demigods (on Long Island), where he learns that the father he never knew is Poseidon, God of the Sea. Soon a mystery unfolds and together with his friends—one a satyr and the other the demigod daughter of Athena—Percy sets out on a quest across the United States to reach the gates of the Underworld (located in a recording studio in Hollywood) and prevent a catastrophic war between the gods.
My Thoughts
Is it bad that I wanted to write this whole post in blue? No? too much? If you have read Percy and are not YEARS behind like me the blue makes so much sense....if not, well jump on the late train with me and start reading this book/series!! I am obsessed with how fun this book was for me. I remember when it was initially published and how it looked interesting, but I did not take the time to read it...boy was I wrong to do that!
The writing quickly ensnared me and I saw this magical world appear before me with gods, demi-gods, other type of mythical creatures and more. The idea of a camp (Camp HalfBlood) for those of a god/human union is quite simply fantastic. I was imagining a summer camp like I had attended, but with these activities and just thought how cool! There would be so many fun ways to turn this into an amusement park or section of a park. I know there is a movie, but I have not seen that yet and am glad I have started the series before watching it. This plot was just fun, easy to read and I did not put it down. Immediately after finishing this story I moved on to the Sea of Monsters. Truly, the only thing I do not like about this book/series is that I waited so long to start it!
Important Links
Links to Purchase Book
Disclaimer~ I borrowed this from my library! (love the library) All thoughts and opinions are my own:)-
Until my next post..love y'all!!