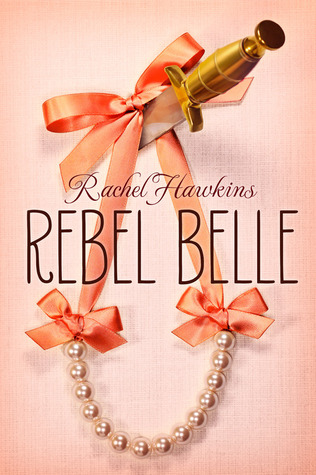 Publisher: Putnam Juvenile
Book Summary (Per Goodreads)
Harper Price, peerless Southern belle, was born ready for a Homecoming tiara. But after a strange run-in at the dance imbues her with incredible abilities, Harper's destiny takes a turn for the seriously weird. She becomes a Paladin, one of an ancient line of guardians with agility, super strength and lethal fighting instincts.

Just when life can't get any more disastrously crazy, Harper finds out who she's charged to protect: David Stark, school reporter, subject of a mysterious prophecy and possibly Harper's least favorite person. But things get complicated when Harper starts falling for him—and discovers that David's own fate could very well be to destroy Earth.

With snappy banter, cotillion dresses, non-stop action and a touch of magic, this new young adult series from bestseller Rachel Hawkins is going to make y'all beg for more.
This is a favorite! The writing style, character development, plot twists, emotions are all spot on. I loved every page, the main plot, side plots and the whoa twists that happened in a few parts of this story. I knew a few pages in I would want to read the second book in the series, but when I finished this book I immediately started the next book..so good!
It is a fun read that by the book cover I thought would just be about a southern belle who acts out or makes decisions different from her family...boy was I wrong! This story has so much more. At times I felt I was watching a new day version of Buffy (minus the vampires obviously) because Harper become some a bad*** in how she could handle situations. I loved that what irritated me about her (her inability to lose control) is what the other characters also struggled with and talked with her about.
The book does have a love triangle which is usually not my favorite bit, and really I thought Ryan was a bit of a wet rag in some regards...but the twist at the end ..oh boy! I literally raced to the next book to see what happened. One last thing that surprised me, but that I love is that I do not have a favorite character. In fact I have many that I like, some I love, but I can't pinpoint one scene or character that is the best...they all were so good! If you like YA, romance, fantasy, fun and twisty rides then you need to go check out this story!
Disclaimer: I borrowed this book from the library. All thoughts and opinions are my own.
Until my next post...love y'all!!