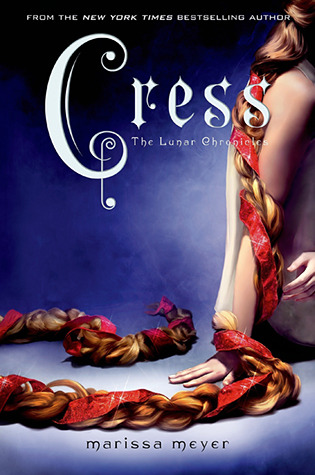 Publisher:

Feiwel & Friends
Published: February 4, 2014
Book Summary (Per Goodreads)
In this third book in the Lunar Chronicles, Cinder and Captain Thorne are fugitives on the run, now with Scarlet and Wolf in tow. Together, they're plotting to overthrow Queen Levana and her army.

Their best hope lies with Cress, a girl imprisoned on a satellite since childhood who's only ever had her netscreens as company. All that screen time has made Cress an excellent hacker. Unfortunately, she's just received orders from Levana to track down Cinder and her handsome accomplice.

When a daring rescue of Cress goes awry, the group is separated. Cress finally has her freedom, but it comes at a high price. Meanwhile, Queen Levana will let nothing prevent her marriage to Emperor Kai. Cress, Scarlet, and Cinder may not have signed up to save the world, but they may be the only hope the world has.
My Thoughts
I don't know why I did it, but I started reading this book before bed last night...rookie move my friends..rookie! I knew I would get sucked into the plot and I did. MM has such a gift with her writing y'all. I ended up staying up until I finished the book, slept super late and then woke up still thinking about how the story-lines ran, twisted and went all over the emotional spectrum. Quite simply I loved this book. I think I said in Cinder and in Scarlet they were my favorite, but now I must say this one is my favorite!
Each character is so real and I am rooting for each of them in their quests. I also want to shake each of them sometimes over their inability to see/say/do something at certain moments. What makes me enjoy/love this one more than the others so far is the amount of different emotions so brilliantly showcased. The strength of will that Thorne shows and the courage that Cress displays repeatedly...(I mean my goodness...the wreck, the crush, the capture, the father..I can't even)
make this a solid story just on their relationship and journey. However, the events that we see with Scarlet & Wolf and Cinder and Kai..they are just..mind-boggling. I did not see them coming and while my heart hurts for them at parts and cheers at other I loved every minute of this journey and world!
I am so glad I started reading this series and I can't wait to continue on to the next book! This is definitely a favorite for the month, the series is a favorite for the year and I plan on purchasing these books as well..so so so good (and the covers are gorgeous)! Please keep sharing with me your favorite characters, parts, etc. because it makes me love this series even more!
Important Links
Author
Goodreads
Links to Purchase Book
Barnes & Noble
Amazon
Disclaimer~ I borrowed this book from my local library (yay for libraries!!) All thoughts and opinions are my own.
Until my next post...love y'all!