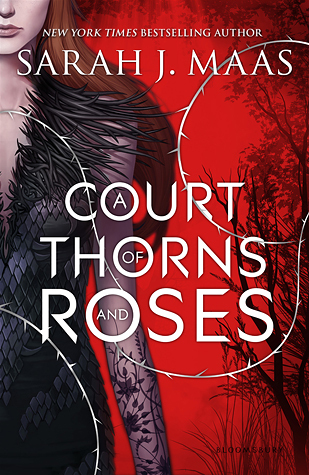 Genre~ Fantasy, YA, Romance
Publisher~Bloomsbury Children's
Book Summary (per Goodreads)
A thrilling, seductive new series from New York Timesbestselling author Sarah J. Maas, blending Beauty and the Beast with faerie lore.
When nineteen-year-old huntress Feyre kills a wolf in the woods, a beast-like creature arrives to demand retribution for it. Dragged to a treacherous magical land she only knows about from legends, Feyre discovers that her captor is not an animal, but Tamlin—one of the lethal, immortal faeries who once ruled their world.
As she dwells on his estate, her feelings for Tamlin transform from icy hostility into a fiery passion that burns through every lie and warning she's been told about the beautiful, dangerous world of the Fae. But an ancient, wicked shadow grows over the faerie lands, and Feyre must find a way to stop it... or doom Tamlin—and his world—forever.
Perfect for fans of Kristin Cashore and George R. R. Martin, this first book in a sexy and action-packed new series is impossible to put down!
My Thoughts
Where have I been? This is the first book I have read by Sarah J. Maas....and I am hooked!! I loved everything about this book. The cover..gorgeous. I mean it is a captivating cover from the font, to the word location, colors and more. The story is hands down one of the best I have read this year. It kept me guessing and captivated the entire time. I loved the rich descriptions of both worlds, the characters, clothing, scenery and scary creatures! Some of them sound like things from our nightmares. The intrigue behind the story...LOVED it. I never saw the twists coming regarding the curse or villain. There were some characters (major and minor) that I loved, some I did not like...at all...but there were others that I didn't like, but then I did and am now just left completely conflicted! I must also admit that there was a scary creature that I also enjoyed! He gave such good advice, but so cryptic...his words could have easily changed the entire story-line if Feyre had listened to his comments.
This is easily a month and year favorite for me. After I finished reading it I could not move onto another book for a while because I kept thinking about the entire story, but really about what Rhysand saw as he left. Now that is a cliffhanger that I enjoyed! This book intertwines fairy tales, myths, romance and political/court intrigue into a masterful explosion of a story that grabbed my attention and has not let it go.
The sequel to this story, A Court of Mist and Fury is scheduled to be released on May 3, 2016...I can't wait!!!
Important Links
Author
Twitter
Wikia site
Goodreads
Facebook
Instagram
Links to Purchase Book
Barnes & Noble
Amazon
Books a Million
Disclaimer~ I borrowed this book from the library:)
Until my next post..love y'all!!