I know you probably are scratching your head over this title, but they do have something in common!! All three companies sell a deodorant that I want to talk about today:)
I purchased this at my local grocery store when I started researching more about the ingredients that are in our lotions, body washes, shampoos, etc. This was the only natural or more natural available in my area so I did some research and decided to give it a go!
Ingredients (per Tom's website)
Propylene glycol, water, sodium stearate, aloa vera leaf juice (organic), glyceryl laurate, hops [CO
2
] extract, sunflower seed oil (organic), ascorbic acid, lemongrass oil (organic) -
Thoughts
I liked this product. It lasted a long time and was comfortable to wear. Did not leave marks on my clothing or cause any irritation. Its claim is 24 hour odor protection and I did not ever experience any odor while wearing it. However, it did not address the sweating that I experienced for I found that it did not last as long or wear as well though during my work outs. Essentially I am going to sweat I do not think this would be my best bet, but for everyday wear I thought this worked quite well!
See more at: http://www.tomsofmainestore.com/product/original-unscented#sthash.ri8w90gM.dpuf
I received this via an Instagram sample giveaway that Blissoma conducted. You can buy it via their website which is linked through their company name above this sentence.
Ingredients (per Blissoma's website)
Ingredients: Sodium bicarbonate (baking soda), Helianthus annuus (sunflower) Oil*, Mangifera indica (mango) Butter, Diatomaceous Earth, Bentonite, Maranta arundinacea (Arrowroot) powder*, Zinc Oxide, Ricinus communis (Castor) Oil*, Euphorbia cerifera (candelilla) wax, Cocos nucifera (coconut) Oil*
*from Certified Organic Agriculture
I really enjoyed learning about and trying this product. Blissoma's website is incredibly friendly and fully explains the why, how and benefits of their products. I liked knowing that this product was 100% vegan, would absorb some sweat, and 100% natural. When I first used it I was not sure what to expect because it looked different and had somewhat different texture then any other deodorant I have tried. However, I quite like this product and see myself buying it again in the future. The only problem I had was the same with Tom's in that if I was working out or in a hot environment I was sweating. Now there was no odor, but having the sweat appear on my shirts is not the cutest look.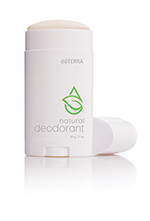 *I am a wellness advocate, but my review is based off of my own experience. I am not a medical person or only promoting what is advertised, but sharing my person opinions.*
This was released in October of this year. You can buy it from your Wellness Advocate or if you do not have a WA and would like to try it out, learn more about essential oils, etc. please contact me!
Ingredients (Per Doterra's website)~
Beeswax, Cocos nucifera (Coconut) Oil, CocoCaprylate, Zea mays (Corn) Starch, Triethyl Citrate, Copernicia cerifera (Carnauba) Wax, Cupressus sempervirens (Cypress) Oil, Melaleuca alternifolia (Melaleuca) Leaf Oil, Juniperus virginiana (Cedarwood) Wood Oil, Citrus aurantium bergamia (Bergamot) Fruit Oil, Salvia officinalis (Sage) Oil, Butyrospermum parkii (Shea) Butter, Sodium Caproyl/Lauroyl Lactylate
Thoughts~
I enjoyed the smell and the feel of this deodorant the best so far. It has had the overall same effect of stopping any odors from occurring as the other two deodorants I tried. I have not experienced any sweating problems with this one, but that is not a claim it has so it might be due more to my schedule has changed and I have not been working out or in similar hot environments such as I was when wearing the above two deodorants. I have only used this one for about 3 weeks, but thus far my skin has not had any reactions and I have liked this product a great deal!
Overall~
All three met their claims of stopping odor. Non of them claim to address or stop sweating/use antiperspirants so that shouldn't have a claim here, but as I do look for deodorants that can address both issues it does!..eck. I would use any of these again, but I believe it would be a tie between Blissoma and Doterra for what all I enjoyed (vegan at Blissoma, essential oils and how it felt on my skin for Doterra).
Have you tried any natural or organic deodorants? What brands or recipes if you make your own? Let me know!
Until my next post...love y'all!!