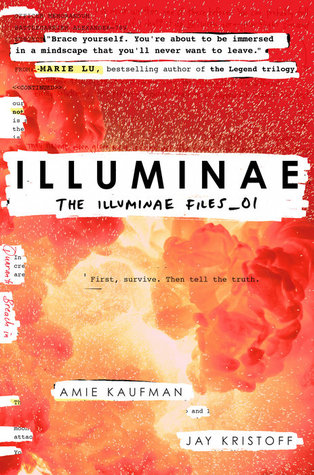 Publisher~

Knopf Books for Young Readers
Published~ October 20, 2015
Book Summary (per Goodreads)
This morning, Kady thought breaking up with Ezra was the hardest thing she'd have to do.
This afternoon, her planet was invaded.
The year is 2575, and two rival megacorporations are at war over a planet that's little more than an ice-covered speck at the edge of the universe. Too bad nobody thought to warn the people living on it. With enemy fire raining down on them, Kady and Ezra—who are barely even talking to each other—are forced to fight their way onto an evacuating fleet, with an enemy warship in hot pursuit.
But their problems are just getting started. A deadly plague has broken out and is mutating, with terrifying results; the fleet's AI, which should be protecting them, may actually be their enemy; and nobody in charge will say what's really going on. As Kady hacks into a tangled web of data to find the truth, it's clear only one person can help her bring it all to light: the ex-boyfriend she
swore
she'd never speak to again.
Told through a fascinating dossier of hacked documents—including emails, schematics, military files, IMs, medical reports, interviews, and more—
Illuminae
is the first book in a heart-stopping, high-octane trilogy about lives interrupted, the price of truth, and the courage of everyday heroes.
I have never read a book like this one. From the name, jacket, artwork, pages, the words, different voices and views to the actual story line this book, for me, was a non-stop one of a kind adventure that I loved! At first I was not sure how to dive into the book, but I started reading and quickly realized that the action and characters sweep you into the book and the extra side notes, pictures, text messages and more just add a whole new layer to reading that is fantastic. I could see this as a movie and more importantly a movie that I think my entire family would love to watch (and I normally don't like the sci-fi type movies). It is a large book, but a fast read full of action and emotions.
Kady is flat out awesome. She is the strong female role model that we are starting to see more in books, but that we still can't get enough of! She does not just follow the orders, but she questions..and those questions make a HUGE difference. Ezra is somewhat of a goof, but a loveable goof. At no point did I not like him..in fact at one point I gasped and started crying because of certain events (Tricky authors..LOVED it). We also see him reach a potential that had a huge impact in this story. The side stories and notes about families, decisions, consequences and the little hints of what was to come at the end of the story (leading us into book 2)...just beautifully done. I didn't get any sense of well obviously this is what is going to happen..in fact I was thrown for a loop each time. My one big switch a roo was over AI...talk about a confused to a hate to a love emotion. Obviously I thought this book was amazing.
I read a lot. I am sent books from authors and borrow many books from the library. This is a book though that I will go out and purchase. I know I will re-read it, that I will purchase the next in the series (seriously I want to know so much more after this ending!!), that I love the artwork and the way it reads and oh yeah..I am a fan!
Disclaimer~ I borrowed this book from the library!
Until my next post...love y'all!!