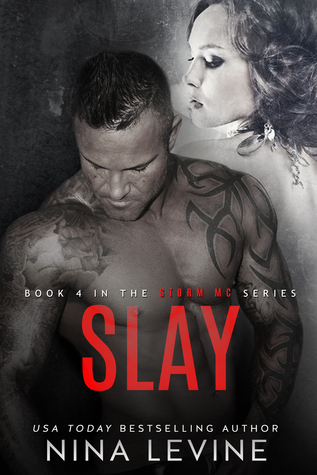 Published~ November 21, 2014
Book Summary (Per Goodreads)
BLOOD WILL BE SHED...
The ghosts of Donovan "Blade" Brookes' life are closing in on him.
Hardened by an abusive childhood and haunted by the murder of his fiancé, Blade struggles against the dark forces threatening to consume him. When he helps Layla Reed in her hour of need, he has no idea she will be the light to his darkness. As they spend more time together, he is powerless to fight his desire for her. Powerless to fight his need for her. However, as his feelings deepen, he pushes her away, reluctant to drag her into his world. With enemies coming at him from all directions, Storm MC needing his help to fight off a rival, and his father still causing him grief, Blade needs the love of a good woman now more than ever. Can Layla push Blade to the edge and get him to admit to both of them what he wants? Or will the darkness pull him under once and for all?
I loved this couple, this story and Blade! He is my favorite of the alpha's in the Storm MC series by far. NL covers some heavy hitting topics again in this story and my heart broke for what Blade had to experience, his confusion on how his mom reacts, and more. Again, as with the other Storm MC books NL masterfully covered some heavy topics in a respectful and informed manner while maintaining the story and not getting mired down in the heaviness of these topics. Layla is a strong and independent female. I love how well she stands on her own, is willing to ask for help and knows when to push versus when to back down. As with the other Storm MC books there is plenty of strong language, violence, intimate moments, laughter, love and more!
The one thing I was not loving for this book is the cover (I know I know..but since I have been trying to pay more attention to the entire product, I am looking at the cover, the spine, the dedications, etc.) I just feel that both of these characters are so strong and have faced so much that they would not be looking down or averting their eyes. I feel that they would be up in anyone's face if needed.
I loved learning more about Blade and can't wait to hear more about him and his relationships with his siblings, mom, Storm and his lady the fiesty Layla!
*Find my review to Storm (Storm MC #1) here, Fierce (Storm MC #2) here, Blaze (Storm MC #2.1) here, Roxie (Storm MC #2.2) here, and Revive (Storm MC #3) here
Links to Purchase Book
Disclaimer~ I bought this with my own money!
Until my next post..love y'all!!