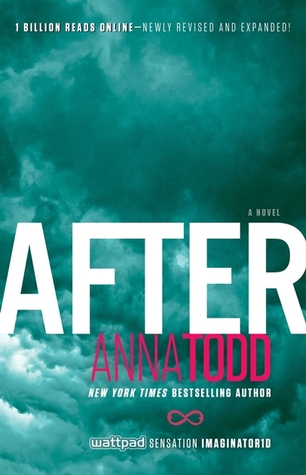 Genre~ YA, Romance, Contemporary
Published~

October 21st 2014
Book Summary (Per Goodreads)
Tessa is a good girl with a sweet, reliable boyfriend back home. She's got direction, ambition, and a mother who's intent on keeping her that way.

But she's barely moved into her freshman dorm when she runs into Hardin. With his tousled brown hair, cocky British accent, tattoos, and lip ring, Hardin is cute and different from what she's used to.

But he's also rude—to the point of cruelty, even. For all his attitude, Tessa should hate Hardin. And she does—until she finds herself alone with him in his room. Something about his dark mood grabs her, and when they kiss it ignites within her a passion she's never known before.

He'll call her beautiful, then insist he isn't the one for her and disappear again and again. Despite the reckless way he treats her, Tessa is compelled to dig deeper and find the real Hardin beneath all his lies. He pushes her away again and again, yet every time she pushes back, he only pulls her in deeper.

Tessa already has the perfect boyfriend. So why is she trying so hard to overcome her own hurt pride and Hardin's prejudice about nice girls like her?

Unless…could this be love?

Now newly revised and expanded, Anna Todd's After fanfiction racked up 1 billion reads online and captivated readers across the globe. Experience the Internet's most talked-about book for yourself!

There was the time before Tessa met Hardin, and then there's everything AFTER ... Life will never be the same.
My Thoughts
I had not heard of this series or author until I came across the gorgeous covers on Instagram a while back. I had not delved into them because they are quite a long read and I was a little hesitant. I was stupid. This book, these characters, this world, the emotions...I can't get enough.
I am writing this review as I have just finished the second book. That's right, I started this book yesterday, finished, got the second one and read until 5am. Amazing. At times I love Tessa and Hardin, at other times I am ill at both of them. There are scenes that even as I think about it I can't believe Tessa didn't tell him where to go and how to get there, but..oh but, AT writes in such a way though that I can understand and feel as though perhaps Tessa is making the right decisions. I adore Landon and Hardin's step mom...their openness to Tessa is endearing.
I can't even wrap my head around what happened at the end. I knew from the blurb something happened, but I did not see that coming. If I was in a movie my eyes would have bugged out, mind exploded, or something that showed I was that shocked. I am pretty sure everyone reading that was gutted and had to immediately see what happened. I also am not sure how I feel about Zed. Beyond huge dismay over what Tessa experienced at the end of this book my other big thought was Molly might be one of the best villains ever...she is cruel, as in she has no redeeming factors. This might change in another book, but so far..evil.
Obviously, I enjoyed this book and can't wait to see what happens in the next one!
Important Links
Author
Facebook
Twitter
Instagram
Links to Purchase Book
Amazon
Barnes & Noble
Until my next post...love y'all!!