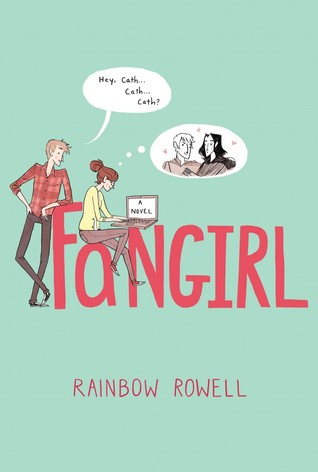 Publisher~

St. Martin's Press
Published~

September 10th 2013
Book Summary (Per Goodreads)
Cath is a Simon Snow fan.
Okay, the whole world is a Simon Snow fan...
But for Cath, being a fan is her life—and she's really good at it. She and her twin sister, Wren, ensconced themselves in the Simon Snow series when they were just kids; it's what got them through their mother leaving.
Reading. Rereading. Hanging out in Simon Snow forums, writing Simon Snow fan fiction, dressing up like the characters for every movie premiere.
Cath's sister has mostly grown away from fandom, but Cath can't let go. She doesn't want to.
Now that they're going to college, Wren has told Cath she doesn't want to be roommates. Cath is on her own, completely outside of her comfort zone. She's got a surly roommate with a charming, always-around boyfriend, a fiction-writing professor who thinks fan fiction is the end of the civilized world, a handsome classmate who only wants to talk about words... And she can't stop worrying about her dad, who's loving and fragile and has never really been alone.
For Cath, the question is: Can she do this?
Can she make it without Wren holding her hand? Is she ready to start living her own life? Writing her own stories?
And does she even want to move on if it means leaving Simon Snow behind?
I had never heard about this book until a few months ago and wow was I missing out! So detailed, so quirky, so sweet, so sad, so many different things that I just loved!
I used to work on a college campus with a variety of students. I lived on campus and enjoyed so many wonderful opportunities, it really was a fantastic time. With that though, there were events that happened that were hilarious and some sad and all in between. I think RR did a splendid job of covering the range of emotions and situations that students face during their freshman and entire college experience. The writing style is unique, creative and so clever. This story has sections that tell Cath's college experience, her fanfaction story, the story that she writes her fanfiction about, a story she co-writes and her final paper and yet I never was confused about what I was reading. Everything flowed together beautifully.
I thought the honest and detailed approach to covering manic episodes, college drinking, anxiety, concerns of hereditary mental disease, first love, roommate concerns/disputes, friends not always be the friend you think they will be was so on point and impactful. I cried during this story, laughed (a lot), and reminisced about my freshman year and the students that I worked with as a student affairs professional. Normally I put a few of the scenes that made me laugh or cry or appreciate the book the most, but I can't in this review because some will tell a vital point that I think might spoil someone's first read, I enjoyed everything about this book, even the characters I didn't like! I know I loved this book, plan on re-reading it soon and can't wait to read more works from RR.
Links to Purchase Book
Until my next post...love y'all!!