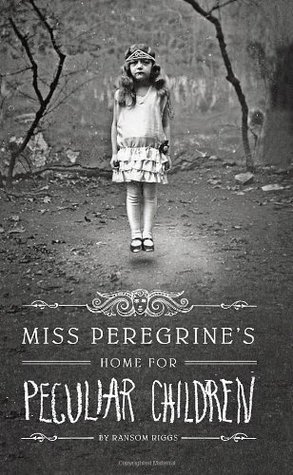 Book Summary (Per Goodreads)
A mysterious island. An abandoned orphanage. A strange collection of curious photographs.
A horrific family tragedy sets sixteen-year-old Jacob journeying to a remote island off the coast of Wales, where he discovers the crumbling ruins of Miss Peregrine's Home for Peculiar Children. As Jacob explores its abandoned bedrooms and hallways, it becomes clear that the children were more than just peculiar. They may have been dangerous. They may have been quarantined on a deserted island for good reason. And somehow—impossible though it seems—they may still be alive.
A spine-tingling fantasy illustrated with haunting vintage photography,
Miss Peregrine's Home for Peculiar Children
will delight adults, teens, and anyone who relishes an adventure in the shadows.
My Thoughts
I picked up this book from hearing JesseTheReader talk about it in so many booktube videos. Andddd I am so glad I did! I found this story and the world that RR creates fascinating.
The characters come to life in this story and the pictures are so incredible. I read this as an ebook and was impressed by the photos and what it helped create in the book, so I can only imagine how much atmosphere these pictures create in a tangible version of the book. The cover is captivating and pulls you into an already rich title. Why are these children peculiar? Who is Miss. Peregrine?
RR writes in a very descriptive manner and I between the words and pictures I felt like I could see this world come to life. The idea of time travel is not new, but I thought the idea of a loop where the same day is what occurred over and over was genius. I mean can you imagine meeting someone who looked 12 and was in their late 70s-80s? What if you knew someone who could reanimate the dead? Lift up a house? Levitate? Truly be invisible? It takes the question about what would your superpower be if you could do anything to a new realm!
The build up to who the grandfather was and what all he did...easily my favorite part of the book because it incorporates so many of the characters and allows them to be shown in a variety of lights.
I enjoyed Miss. Peregrine's personality and hope to learn more about her in book two. In some aspects she reminded me of Minerva McGonagall from the Harry Potter series because of how caring but strict she can be when warranted. Then, at the beginning I did not like Jacob's parents at all. What he overheard his mom say broke my heart. His dad I didn't find much better until their heart to heart at the bar regarding Jacob's grandfather. Then, let's talk about a twist I didn't see coming..hello to the hollow and wight that we find near the end of this first adventure...I did not see that identity coming..at all! Poor Jacob! I thought the ending was great, but it left me with a lot of questions that hopefully will get answered in the next book with Miss Peregrine, Emma, Jacob and the rest of the peculiar s
!
Important Links
Author
*This may be the best author's page I have explored..just saying. It completely flows with the story and imagery of the book*
Goodreads
Facebook
Twitter
Instagram
Youtube
Links to Purchase Book
Amazon
Until my next post...love y'all!!