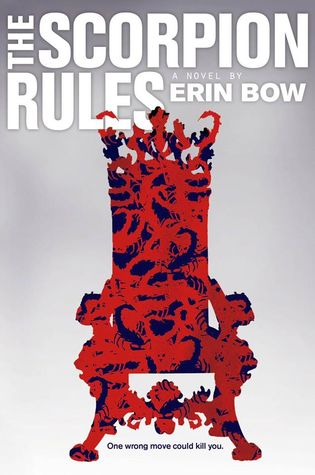 Genre~ YA, Science Fiction
Publisher~

Margaret K. McElderry Books
Published~

September 22nd 2015
Book Summary (Per Goodreads)
The world is at peace,
said the Utterances.
And really, if the odd princess has a hard day, is that too much to ask?
Greta is a duchess and crown princess—and a hostage to peace. This is how the game is played: if you want to rule, you must give one of your children as a hostage. Go to war and your hostage dies.
Greta will be free if she can survive until her eighteenth birthday. Until then she lives in the Precepture school with the daughters and sons of the world's leaders. Like them, she is taught to obey the machines that control their lives. Like them, she is prepared to die with dignity, if she must. But everything changes when a new hostage arrives. Elián is a boy who refuses to play by the rules, a boy who defies everything Greta has ever been taught. And he opens Greta's eyes to the brutality of the system they live under—and to her own power.
As Greta and Elián watch their nations tip closer to war, Greta becomes a target in a new kind of game. A game that will end up killing them both—unless she can find a way to break all the rules.
My Thoughts
Talk about a doozy of a first book of 2016. Love, war, peace, robots, royalty, a new world order and more. Some parts of this book were flat out amazing and some parts were flat out confusing/unnecessary. I am mainly confused about what were the proctors? Could they read minds? Why did Atta not talk? Were all people considered equal? questions like that had me confused.
I loved Abbott and hated Abbott. I like and loathed Talis. I started out liking Elian and by the end I could not believe Greta did what she did for him, especially by the end knowing what she did about Lia. Perhaps that is the beauty of this book though, the messages it makes you think about. How when you think you have already lost everything..you realize perhaps you have more you can lose. Or how missing signs can mean you miss a whole lot upon reflection.
This book takes place in the future, is sci-fi and YA, but not to YA, in my opinion. AKA do not let your little children read this as there is torture, kissing, intimate scenes, cussing, death and more. I enjoyed it and would love to see what happens after the final scene. Is she able to hold on to the little bit of humanity? Does Elian do something with his life to help make this worthwhile? How or does Talis change with the new addition? and so many more questions! Lastly, this cover is very creative! I love that it is a throne made of scorpions. The creatures that hurt Elian and the visualization of what saved him. Perfect.
I always love reading, but based off of this book book I can't wait to see what other amazing works and authors I get to meet and enjoy this year!
Important Links
Goodreads
Author
Twitter
Links to Purchase Book
Amazon
Disclaimer~ I received this book in exchange for an honest review. All thoughts and opinions are my own.
Until my next post..love ya'll!!