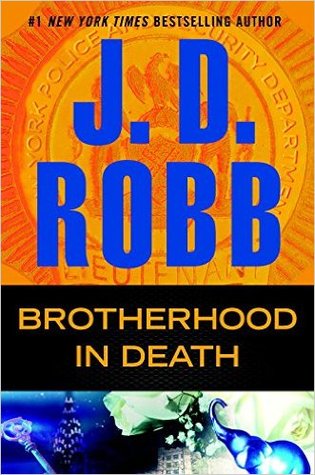 Genre~ Mystery, Crime, Fiction, Romance
Published~

February 2nd 2016
Book Summary (per Goodreads)
Dennis Mira just had two unpleasant surprises. First he learned that his cousin Edward was secretly meeting with a real estate agent about their late grandfather's magnificent West Village brownstone, despite the promise they both made to keep it in the family. Then, when he went to the house to confront Edward about it, he got a blunt object to the back of the head.
Luckily Dennis is married to Charlotte Mira, the NYPSD's top profiler and a good friend of Lieutenant Eve Dallas. When the two arrive on the scene, he explains that the last thing he saw was Edward in a chair, bruised and bloody. When he came to, his cousin was gone. With the mess cleaned up and the security disks removed, there's nothing left behind but a few traces for forensics to analyze.
As a former lawyer, judge, and senator, Edward Mira mingled with the elite and crossed paths with criminals, making enemies on a regular basis. Like so many politicians, he also made some very close friends behind closed—and locked—doors. But a badge and a billionaire husband can get you into places others can't go, and Eve intends to shine some light on the dirty deals and dark motives behind the disappearance of a powerful man, the family discord over a multi-million-dollar piece of real estate . . . and a new case that no one saw coming.
My Thoughts
Dennis Mira is adorable. I love this series...from the characters, to the dialogue, writing style, futuristic traits ...I love this series.
This story focuses on sex crimes which are always hard for Eve to work with, but as always
Eve shows her inner strength by staying with this case and never giving up. I loved how this crime and story tied in the Mira's and gave me a chance to learn more about Mr. Mira! Dennis
Mira has been one of my favorites from the first time we met him because of his personality and how somehow even though he is a fictional character anytime he has a scene I just want to smile and go get a hug. I love the way his character has developed and the warmth he gives everyone, but especially Eve, his children and his wife. The scene with the hot chocolate warmed my heart, made me sad and happy and truly epitomizes why I love Mr. Mira's character and how he effects Eve.
I missed seeing all of the characters that I have grown to love in this series, but I appreciated their absence because it allowed the focus to really stay on the crime, Mr. Mira and his family, Eve and her departments police work and of course Eve and Roarkes' relationship. Hello argument over the office and desk!! love it!:) I know when I read a JD Robb story I am in for action, details, suspense, some romance/love and great writing. These characters...this story..far surpassed my expectation and show why I always place JD Robb as one of my favorite authors. Simply outstanding!
Important Links
*You can read my review to Devoted in Death here*
Links to Purchase Book
Amazon
Barnes & Noble
Until my next post...love y'all!!