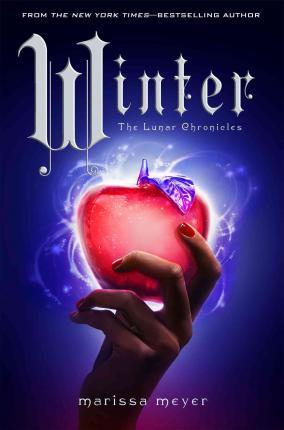 General Information
Genre~ YA, Fantasy, Romance
Publisher~

Feiwel and Friends
Published~

November 10th 2015
Book Summary (Per Goodreads)
Princess Winter is admired by the Lunar people for her grace and kindness, and despite the scars that mar her face, her beauty is said to be even more breathtaking than that of her stepmother, Queen Levana.
Winter despises her stepmother, and knows Levana won't approve of her feelings for her childhood friend—the handsome palace guard, Jacin. But Winter isn't as weak as Levana believes her to be and she's been undermining her stepmother's wishes for years. Together with the cyborg mechanic, Cinder, and her allies, Winter might even have the power to launch a revolution and win a war that's been raging for far too long.
Can Cinder, Scarlet, Cress, and Winter defeat Levana and find their happily ever afters?
Without a doubt this is my favorite YA series and this is certainly my favorite of the series. All the questions, doubts and dislikes I had about an event or character is addressed in this book. It is a long read, but a gloriously fun and at times too fast of a read. Too fast because I did not want it to end. Yes, I know there is the book of novella's, but I love this world and characters so much that I did not want my time with their conversations, looks, adventures, etc. to be over.
I would love to see how MM writes because this book shows she is a master of detail and planning in my opinion. The majority of the book has the characters (and couples) split up in different areas of the world (not just country..world). Even though everyone is completing different tasks, or facing different obstacles, the entire plan continues moving forward. We get to see their internal concerns and conflicts as well as how they handle protecting themselves and others. I can't imagine the work it took to make sure no detail got mixed up, a character or area got lost, etc.
As I look back on this book and series, I must say that I do not have just one favorite. In terms of couples, Cinder/Kai and Winter/Jacin are my favorites. I enjoy Scarlet/Wolf and their relationship in Winter made me love them, but their initial story was not my favorite. Cress/Thorn oh where to start...I like them but the struggles and humor and just emotional views of their thoughts made me want to hit my head on something at times. Huge twist for me though when Thorn shared about that kiss in the hallway..I am pretty sure my eyes bugged out! In terms of personality..ironically enough it is Iko and Konn Torrin that I found the most enjoyable. For the character I thought grew the most it would have to be Cinder or Cress. Those two female leads came so far in this story line and it was brilliant to see.
The other day I was asked about my favorite villain and I came up with a few, but after reading Winter..wow I really need to re-evaluate. I don't mean just Levana, though hello evil personified, but also the head Thaumaturge's Sybil and Aimery. Though really, all could be called villains because of what they do to the citizens and special op packs, but I digress. Now I won't say they are my favorite characters, but I must say I am so impressed with the detail and layers to the character that makes up these fantastically hateful villains. My heart hurt for the group many times in this story, but if it wasn't for those scenes, losses and harms this idea of a revolution would not have been realistic. By the end, while sad about some things, I was beyond happy with the outcomes!
As I mentioned above, this is my favorite YA series and one of my favorite series in general. The writing style, characters, plot, details and more are gripping and kept me captivated while I was reading and even days later. I look forward to reading Stars Above and meeting all of this group again!
*I have read all of the Lunar Chronicles...If you are interested here my reviews for; Cinder , Scarlet , and Cress, and Fairest*
Author
Twitter
Facebook
Pinterest
Links to Purchase Book
Until my next post...love y'all!!!