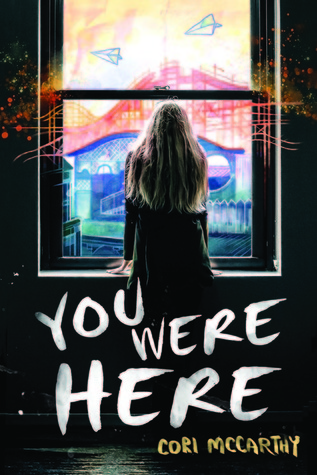 Publisher~ Sourcebooks Fire
Book Summary (Per Goodreads)
Grief turned Jaycee into a daredevil, but can she dare to deal with her past?

On the anniversary of her daredevil brother's death, Jaycee attempts to break into Jake's favorite hideout—the petrifying ruins of an insane asylum. Joined by four classmates, each with their own brand of dysfunction, Jaycee discovers a map detailing her brother's exploration and the unfinished dares he left behind.

As a tribute to Jake, Jaycee vows to complete the dares, no matter how terrifying or dangerous. What she doesn't bargain on is her eccentric band of friends who challenge her to do the unthinkable: reveal the parts of herself that she buried with her brother.
My Thoughts
I couldn't put it down. The imagery, emotions, writing style, character development, secrets, flashbacks and relationship dynamics were captivating and had me enthralled the entire time!
This book centers around a dark/deep topic, the loss of a loved one too early in life, but is done in a way that shows the extremes of how people react to loss differently. Humor, denial, asylum stays, and more are explored in this story. I enjoyed the adventures that the group went on and how even though they all were hurting and angry, even with each other at times, they came through for each other in some awkwardly perfect ways. Part of what I enjoyed the most about this story is that each chapter was from a different characters point of view. I love this because one chapter would discuss how they viewed another's actions and then the next chapter would have that character thinking about how they felt, how others perceived them, etc. Mik's sections were gorgeous..I absolutely loved the graphic art in these sections and visual representations of each characters.
I thought the characters were extremely relate-able. I mean who hasn't looked at college or moving as a chance to reinvent themselves? who hasn't felt socially awkward and not understood why people ask if they don't want the truth? who hasn't kept secrets to try and protect themselves & others, who has't..etc. for each of these teenagers.
Mik or Zach would have to be my favorite for this story. I thought they demonstrated the most depth and intriguing characters or secrets. I enjoyed, but was somewhat confused, by Bishop. He was well written and a good friend but after the first foray with Jaycee and then his find on Tyler's phone seemed a bit random? Though his art work and quotations are fantastic representations of each location and emotional pulse of the group. At the beginning of the book I wasn't sure about Natalie and Jaycee, but by the end I understood how they were described and appreciated their friendship for what it was and what it might become.
This book comes out on March 1st, and I can't wait to go pick it up and see the graphics in person and read it again. I loved this book, the characters, the individual thoughts and overall story! While the story answers all the questions regarding the brother and Jaycee's activities, I would love to see this group of friends again in the future..maybe on the road trip or maybe just later on...I had a great time getting to know them and don't want to fully say goodbye!
Important Links
Author
Facebook
Instagram
Twitter
Links to Purchase Book
Amazon
Barnes & Noble
Disclaimer~ I received this book in exchange for an honest review. All thoughts and opinions are my own.
Until my next post...love y'all!!