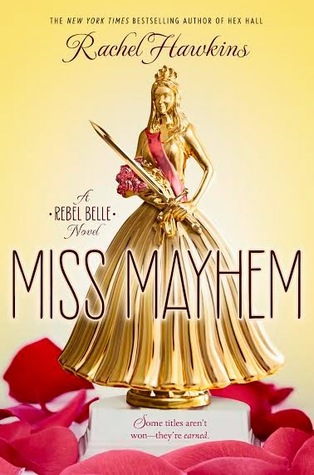 Publisher: Putnam Juvenile
Book Summary (per Goodreads)
Life is
almost
back to normal for Harper Price. The Ephors have been silent after their deadly attack at Cotillion months ago, and her best friend, Bee, has returned after a mysterious disappearance. Now Harper can focus on the important things in life: school, canoodling with David (her nemesis-turned-ward-slash-boyfie), and even competing in the Miss Pine Grove pageant.
Unfortunately, supernatural chores are never done. The Ephors have decided they'd rather train David than kill him. The catch: Harper has to come along for the ride, but she can't stay David's Paladin unless she undergoes an ancient trial that will either kill her . . . or make her more powerful than ever.
I enjoyed this book. I found that it flowed seamlessly from the first story and kept the story going very well. The writing style was superb and kept me intrigued. I loved seeing the relationships and story lines develop even more for all the characters. The imagery for this story was exquisite and I loved the settings for the tests and big moments of the story.
However there were two things that I did not find as great or captivating in this book.
I do not enjoy love triangles for the most part and this kind of fell into the category of why I don't like triangles. I thought the cliffhanger at book 1 was shocking and was intrigued to see what happened in this book. However after reading book 2, all I can say is that I strongly dislike her ex-boyfriend. ..I might be questioning my thoughts on a friend as well..just saying..I feel uneasy about her interactions with Harper. The second thing I had a hard time with was that I felt that I knew the ending way before the cliffhanger of book two. I read a lot so a pet peeve of mine is if I think I know what the twists to a plot are before I actually read them.
Now with that I think this book is superb because even with those two issues I had when I finished reading the book I was like what ...no..that can't be the ending is there a third book? What happens? She can't let that be the ending that goes against the grain of her personality!!
I would recommend this book and look forward to seeing what happens in the next installment of this series!
Disclaimer: I borrowed this book from the library. All thoughts and opinions are my own.
Until my next post...love y'all!