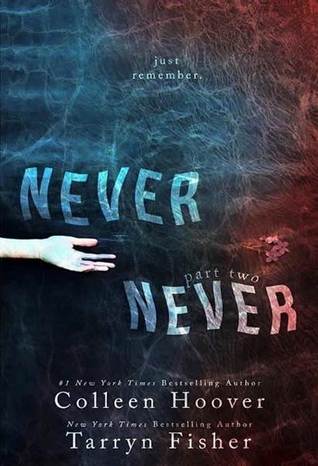 General Information
Genre~ YA, romance, suspense
Publisher~ Hoover, Inc.
Published~ May 17, 2015
Book Summary (Per Goodreads)
"Never forget that I was your first real kiss. Never forget that you'll be my last.
And never stop loving me between all of them.
Never stop, Charlie.
Never forget."
Silas races against time as more truths unravel, while others twist tighter together. And now, the stakes are higher as Silas' control slips and others begin to point fingers. Charlie is in trouble and he must be the one to bridge the chasm between their past and their present. Because somewhere between I love yous and Never Nevers and Never Agains, a truth they can't imagine, beckons to be found.
"Where are you, Charlie?"
My Thoughts
I know more now, but not enough! Part Two picks up right as Silas loses his memory again...yes again. We have more answers, but not quite enough to actually figure out what is going on. I love how the perspectives from the characters let us know the confusion, fear, joy, etc. It seems so real and tangible this way, raw if you will.
I picked up Part One three days ago, read it and immediately bought Part Two and Part Three. I am not the post patient of people (aka why I don't like cliffhangers) so I am incredibly glad I just learned of and started this story. I have a lot of respect though for those who read them as they individual books came out because the amount of questions I had in my head as this book picked up with Charlie missing, Silas losing his memory again, phew.
I loved the writing style and the seamless transition from part one to part two. I enjoyed getting to know Silas's brother better and finding out more details about what happened to the two families, the relationship between Charlie and Silas and about the Jamais Jamais property (gorgeous name). At this point I am completely ensnared in their story and really want to know what is going on and furthermore...how do they stop it for both of them? Genius story line and I can't wait to see what happens in Part three!
Side note~ The covers and artwork for this three part story...genius! I didn't focus on it until after I finished reading all three, but check out the hands and cover for each part...love love love
Important Links
Links to Purchase Book
Until my next post...love y'all!!