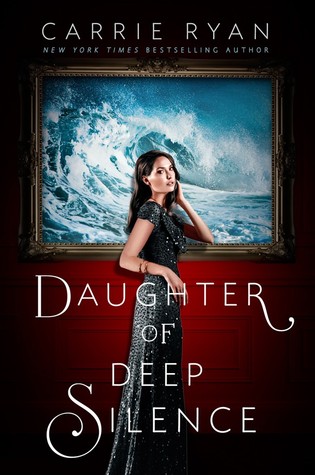 Genre~ YA, Mystery, Romance
Publisher~

Dutton Books for Young Readers
Book Summary (Per Goodreads)
I'm the daughter of murdered parents.
I'm the friend of a dead girl.
I'm the lover of my enemy.
And I will have my revenge.

In the wake of the devastating destruction of the luxury yacht Persephone, just three souls remain to tell its story—and two of them are lying. Only Frances Mace knows the terrifying truth, and she'll stop at nothing to avenge the murders of everyone she held dear. Even if it means taking down the boy she loves and possibly losing herself in the process.

Sharp and incisive, Daughter of Deep Silence by bestselling author Carrie Ryan is a deliciously smart revenge thriller that examines perceptions of identity, love, and the lengths to which one girl is willing to go when she thinks she has nothing to lose.
The blurb sounded amazing, the cover gorgeous, but I was a huge Revenge (TV show?!?!) fan and I was like is this just going to be identical to that? quick answer...nope! While obviously a young woman who is seeking revenge is similar to both the rest of each woman's journey take very different twists and turns.
I immediately was drawn into this young woman's story and loved it. I thought the ups, downs, confusion and intrigue were exciting and the ending is one of the best ever! For me it left it to my imagination or open for a follow up story. CR's writing style is captivating. During the nightmare scenes and flashbacks I imagined what the passengers must have experienced and it was heartbreaking. The way the final scenes go down are poignant and purposeful.
This was the first book I have read by Carrie Ryan, but I look forward to reading some of her others as I enjoyed this book immensely and know it will be on my favorites list for 2015.
Important Links
Links to Purchase Book
Disclaimer~ I borrowed this book from the library. All thoughts and opinions are my own.
Until my next post...love y'all!!